Pacific Indemnity is a boutique underwriting agency specialising in professional risk insurance products.
Launched in September 2015, Pacific Indemnity is led by Jun Acance who is one of the industry's most respected professional risk underwriters and is widely known for his expert underwriting knowledge having led the CGU Professional Risks business unit for over 15 years and having in excess of 34 years experience with professional risk insurance. Jun is supported by a team of highly skilled and experienced underwriters.
The quality of our product and the security of our insurance partners and our service ensures a market leading offering
Above average product offering.
Market competitive rates. We pass on most of our efficiency savings achieved through use of technology for transacting business.
Better Service
Easy to deal with – We have designed our systems and our processes to facilitate ease and efficiency of transaction.
Fair and predictable claims management.
Better long-term outcomes
We will assist intermediaries and their insured clients to reduce their exposure through risk management education.
High quality financial security – the insurance products we offer are backed by quality security such as IAG with its 'AA-' S&P Financial Strength Rating* and Zurich Australian Insurance Limited
Our insurance products
The Professional Insurance professionals
In a specialist field it pays to work with knowledgeable and experienced people. Pacific Indemnity working in partnership with respected insurers with quality S&P ratings. Our expert team is there to assist you. Meet our team.
The in depth indemnity specialists
Pacific Indemnity's high quality, cost-efficient service comes from our pure focus on professional risk insurance and related insurance risk policies. Our specialist insurance portfolio includes:
Professional Indemnity

Primarily miscellaneous professions
Financial services professionals

Employment practices liability policies
The Pacific Indemnity difference: quality service and mutually profitable outcomes
Our goal is to provide brokers with intelligently conceived above average solutions at market competitive premiums.
Hand picked team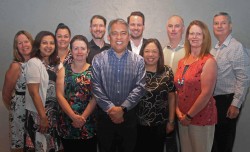 Our service is genuinely personalised, delivered by expert individuals led by one of the industry's most respected professional risk underwriters – Jun Acance who led the CGU Professional Risks business unit for over 15 years is widely respected for his expert underwriting knowledge with in excess of 25 years of professional risk insurance experience. Other staff include:
Robert Beaton
with over 40 years professional risk insurance experience including 8 years as CGU Professional Risks Product & Underwriting Manager
Andrea Skan
has over 20 years experience in underwriting and provision of training in Professional Risks products, a degree in Biological Science and a Certificate IV in Training and Assessment
Lauren Sephton
has over 20 years industry experience and 19 years in Professional Risks as Accounts manager
Lea Acance
highly regarded and experienced in large corporations such as Telstra and Shell
Steven Duckworth
joined us in 2016 with professional lines insurance broking experience and other general insurance claims background
Sharmella Perera
has over 20 years experience in the insurance industry including roles as call centre Team Leader, Project Manager and Business Analyst for insurance systems developments
Edward Rawnsley
has over 30 years experience in the insurance industry, the majority of this time has been either broking or underwriting Professional lines
Simone Oakman
has over 20 years experience in Professional Indemnity insurance in both administration and underwriting roles, most recently 11 years at Vero as Professional Lines Commercial Underwriter
Daniel Ireland
has 19 years experience in General Liability insurance underwriting roles and prior as a broker. Such roles include Underwriting Manager – Liability (Corporate Southern) at Allianz and most recently at CGU as Underwriting Manager – Liability Vic
Daniel Troy
was admitted to practice as a solicitor in the Supreme Court of Queensland in 2014 and the High Court of Australia in 2016. He was an Associate for Chief Judge PM Wolfe AO before working as a litigator at Norton Rose Fulbright and a Legal & Claims Manager at CGU Professional Risks
David Hamilton
has over 25 years Underwriting, Development and Consulting in Australian Financial Lines markets largely Professional Indemnity. Experience with Allianz and HIH and the inaugural Pacific Indemnity. Specialist capability in Medical Malpractice and Infrastructure, Construction sectors
Lucy Ballment
is our enthusiastic Administration officer who is keen to assist
Jun's hand picked team of skilled underwriters has some quality security behind them in the shape of Pacific Indemnity's insurance partnerships – including with IAG and Zurich Australian Insurance Limited.
Our Strategy
Partner Brokers
We will develop exclusive relationships with partner brokers and will develop an agreed portfolio underwriting approach and will work with the partner broker to increase revenue through new business acquisition assisted by improved and efficient processes.
Partner brokers will benefit from:
Our holistic portfolio underwriting approach.
Win/win approach
Best systems available to create efficiency benefits for broker and insured
A real time on-line quoting system for more than 250 professions
The breadth of our appetite for occupations
Our insurance capacity (limits)
Our highly skilled underwriters and good systems to assist brokers to grow new business
Our agility and responsiveness to the brokers needs
The high quality financial security of our insurance partners
The quality of our products to the benefit of their insured clients
The extensive knowledge and experience of our underwriters
Specialised risks for all brokers
In addition to we will deal with all brokers on specialised risks for:
Large (over $5m fees) Construction professionals (architects, engineers and surveyors)
Large D&C (over $100m in turnover) and Project PI risks
Large Insurance intermediaries and Financial Advisors (over $100m in turnover)
Brokers will benefit from:
The extensive knowledge and experience of our underwriters
Our ability to tailor fit cover and our long term view on risks
* As at June 2019 IAG rated as being 'AA' which is classified as 'Very Strong'